Craft Beer Tap Room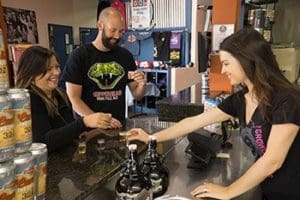 Following in the footsteps of Europeans and East coasters, the Growler Guys® opened its doors in early 2012. Word traveled fast among craft beer enthusiasts and general folks who wanted to test the concept. The concept is pretty cool: Our first growler fill station in Bend, Oregon at the Stop and Go Shell gas station has 45 of the most varied local craft beer favorites, and not-so-local brews, on tap for you to choose from and take home in either a 32-oz or 64-oz growler. What started as a fill station has now grown to many locations across several states serving amazing craft beer in tap house settings yet still providing the unique to go options we have been known for!
What, you don't know what a Growler is? Find Out Here
You only have to buy the growler once then you can bring your bottle back and enjoy the convenience of just paying for each growler fill—while you sample as many brews as you would like.
Prices vary among the different beers and the different locations. Check your local location's page or call for pricing. As a growler fill station, you can also pick up specialty food items that go great with craft beer. And, you don't have to hurry home, special events and tastings are scheduled—and you can enjoy a beer, cider, or kombucha right onsite.
How to pick the right glass
A beer glass is far more than just a holder for beer. The proper glass will not only hold your beer but it can completely change how you experience a beer.
Drink from a glass, not a can or bottle
The right glass allows you to get the full appreciation of flavor because most of the flavor of beer is detected through the nose. By bringing your nostrils into the air directly above the beer you actually get a full appreciation of the aroma.
Also, you want to pour it in a glass is so that you can admire the appearance of the beer; its color, carbonation and foam.